An Office for National Statistics (ONS) survey showed that nearly half (46.6%) did some work at home in April 2020. 86% of this was due to the Coronavirus pandemic. However, many commentators believe that, where applicable, home office working will become the norm. Employers are finding that home working is often more productive. One Stop Joinery provides some tips on establishing an efficient and comfortable home office.
The challenges of Home Office working
There are some clear benefits. For example, travel and office distractions are eliminated. But, there is much to consider when setting up your home office.
Space availability
Not all houses have a study or a spare room. In such cases, the home office must be shared with other living requirements. In the last thirty years, house size has decreased. This means that, for many, the amount of available space will be limited. Careful planning is required and a bespoke design can optimise space. One Stop Joinery are experts in bespoke design and installation.
Comfort and Safety
"I've banged into this" or "I've tripped over that", will chime with many. Eliminating hazards is key in the design of the home office. This will benefit all if the office is a shared space. Comfort is also critical. Regular breaks are recommended, but the workspace will be used for many hours overall. Posture and working height must be carefully considered.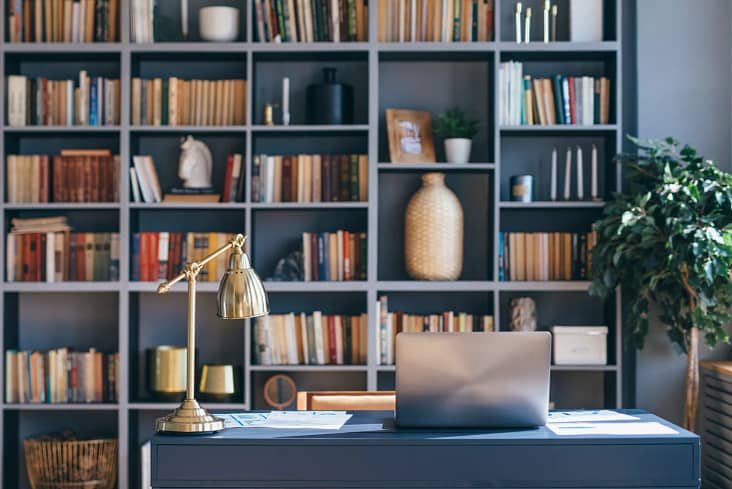 Minimising Disruption
This is particularly difficult in the current situation. But, planning to minimise 'passing traffic' and undue noise are important for your concentration. Designers of open-plan commercial offices also contend with similar constraints. Screening can reduce noise and distraction. Correct workstation positioning will aid the ability to focus on the work or calls in hand.
Critical electrical items
Computer and Software
A laptop, or desktop computer depending on the performance and portability required. Map out all software required as you may be able to take advantage of package deals.
Monitor
Usually a necessity for a desktop computer. For laptops, a monitor could aid posture and viewing.
High-speed internet access
Good bandwidth internet will be particularly important for the transmission of large files. It will also make videoconferencing seamless.
Back-up Drive
Cloud-based backup services are available. However, it is strongly advised to have a physical back up device in the home office. This should be used regularly to protect your work from any computer failure.
Printer or Multifunction machine
Even with a desire to be paperless, you may require hard copies or to scan. Printing also allows you to 'have a break' and view work in a different location.
Good Lighting
An often overlooked requirement. The ambient room lighting may not be sufficient for your needs. Highly detailed work may require magnified lighting to avoid eye strain.
Other items you may need to consider
Depending on your nature of work, the following may be important. A landline telephone, paper shredder and router. If the power supply is an issue, a surge protector and uninterruptible power supply (UPS) could be on your shopping list.
Now where to put them …. creating your Home Office
"There's a table and dining chair in the garage". For a now-and-again requirement, this could suffice. But imagine going into a commercial office and seeing this arrangement! To work for hours every day, you must be comfortable and have as much equipment to hand as possible. It is best to completely specify your hardware list before choosing or designing desk and storage needs. We, at One Stop Joinery, can help through an initial discussion. Then our design will reflect your needs, rather than fitting your needs around what furniture is available.
Desk
The desk must allow for ergonomic working. Being comfortable and relaxed in posture optimises productivity. Of course, confined space will make this difficult. But, even more in this case, the services of One Stop Joinery can help. It should be seen as an investment not a cost.
Chair
You need a chair you can sit in for hours without feeling you've run a marathon! It must not dominate the home office, but give you correct posture and the ability to work at a correct height.
Filing Cabinet
It may be possible to install sufficient filing space into the desk. Otherwise, additional filing capacity will be required.
Other storage needs
It is not good practice for your desk to be strewn with numerous pens, business cards and other 'sundries'. Wall storage units are a space-efficient solution and we can advise on creative designs that optimise your space.
More about One Stop Joinery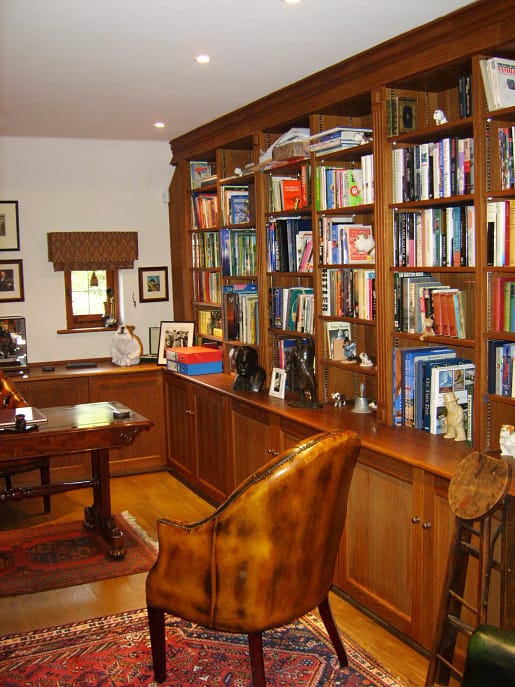 One Stop Joinery was established in 2004. Since this time we have used traditional joinery techniques to design, build and install high-quality products. We operate in the residential, commercial and construction sectors, both internal and external. Using hardwoods or softwoods, we also design and build using engineered timbers where more stability is required. An exciting addition to the materials range is to use Accoya. This is a new product which is a modified traditional wood at a molecular level. The increased durability stops rot and fungi from digesting the wood.
One Stop Joinery and the Home Office
A large part of One Stop Joinery's work is bespoke. This is particularly relevant for furniture design and manufacture. As outlined above, an off-the-shelf purchase may not optimise your requirements for home office furniture. Engaging a joinery specialist could save much inconvenience and inefficiency. This is reinforced by a rigorous five step process that One Stop Joinery always apply.
5 steps to a perfect Home Office Design
One Stop Joinery start with the premise that an office can be designed and fitted to any space.
1. Initial Visit
This will identify the key requirements of the Customer. It should be stressed that any physical visits are totally Covid compliant.
2. Design Production
The design is produced to meet the specifications from the first stage. This is then agreed with the Customer.
3. Unique Manufacture
After approval, a deposit is paid by the Customer. High quality manufacture then begins in the One Stop Joinery workshops.
4. Installation
We also carry out the fitting of the completed design. Craftsmen with ten's of years of experience ensure this is hassle-free.
5. Customer Satisfaction
We are not happy until you're happy. This gives complete peace of mind for you, the Customer, in the finished installation.