Casement windows, which are also sometimes referred to as window casements were the earliest form of window which could be opened to let light and fresh air into buildings. The modern casement window has a long history and their use dates back to the 18th century. They replaced older stone mullion windows which typically couldn't be opened and had small individual glass panels. Within the 18th century each individual casement window frame was made from iron and crafted by blacksmiths. The hinges were positioned on the side of the frame and the sash was hung vertically, in the same way as a door.
The English traditional was for the window to open outwards. Around about the mid 19th century, these bespoke iron frames were more commonly replaced by oak. The use of wood greatly improved thermal properties. As they were more cost effective and had faster production, it made it possible for people to install a greater number of windows on their new properties.
What Are The Advantages of Casement Windows?
Ventilation
The great advantage of casement windows is that they generally allow the whole window to be opened. They create the best possible airflow for those stuffy English summers. You can open them a crack or throw them wide open, depending on the weather. You can control the angle of the windowpane opening and scoop in as much air as you need as it travels along the sides of the building. This makes window casements an ideal option for areas which need high ventilation like kitchens and bathrooms.
Thermal Qualities
In the winter months the casement windows perform slightly better than sash windows as there are less edges for cool air leakage. When there are strong winds against the building the pressure pushes the windowpane into the frame and creates a stronger seal. Indeed, this is possibly why the tradition of opening windows outwards in the UK came about. Sash windows will do the opposite. If the sash windows are on the weather side of the building then the frame is pushed inwards and the bottom and top of the sash can separate producing a gap for air flow to pass through.
Casement Windows Styles
If the room has an attractive view, chose a style which frames your vista. Subject to the design, when a casement window is fully open there will be an unimpeded view. This is more appealing than other design options. For example, sash windows, which can only ever be opened 50 percent and the panel frames are always in sight. Casement windows are also a good option for dark spaces which would benefit from natural light or have hard to reach areas that are difficult to access. For instance a window over a kitchen sink or above a bath. If you opt for a casement window design with large panes these are also much easier to keep clean as there are less places for the dust to collect.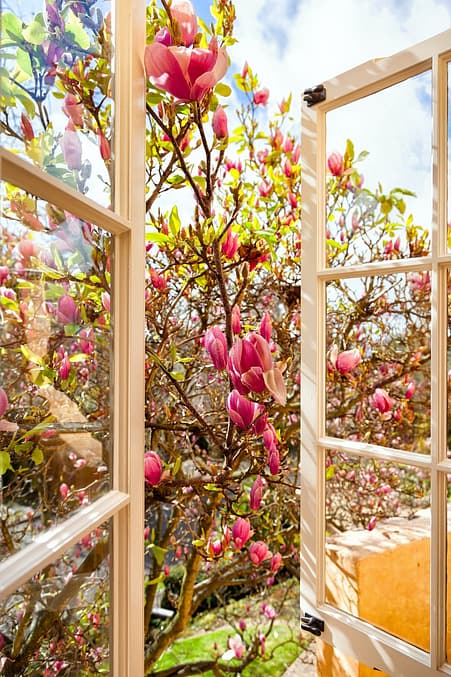 Are Casement Windows Secure?
As the locking mechanism of casement windows is generally concealed within the window frame. As it can only be accessed on the inside it is much harder to tamper with them from outside the building. Even if a locked window is broken, an intruder will not be able to open the window without breaking the wooden frame entirely. This creates a distinct deterrent for would be burglars.
What Wood Should You Use For Casement Windows?
Window manufacturing technology has progressed enormously in recent years, combining older crafts with the latest in laser alignment and measurement technology. Wooden casement windows can be crafted from a range of different wood; however, hardwoods are recommended. Oak especially is a classic choice and known for its durable and long last properties. Other woods options are pine, cherry, mahogany, and fir. When selecting a wood consider the sustainability of the forest that it came from. One Stop Joinery is based in Sussex and crafts their casement windows using wood from well managed and sustainable forests, they recommend English oak.
Finishing Touches for Wooden Windows
All wooden windows can be primed and painted in your chosen colour, or simply lacquered to show the beautiful grain of the wood. Water based finishes are ideal and a glossy finish on the exterior part of the casement window works well to repel water and dirt. Matt and satin finishes are currently fashionable for interiors. One Stop Joinery recommends that the paint or lacquer is applied in the workshop to achieve a smooth and flawless finish.
Window fittings and fixtures come in hundreds, if not thousands of styles and colours. When selecting your new fittings think about the style of the building not just your current interior design. Classic designs will stand the test of time as interior fashions evolve and adapt.
Glazing
Casement windows can be supplied with a vast range of glazing including triple and heritage style glazing required for listed properties. Ensure that you have fully briefed your window supplier of your glazing requirements so that the frames are manufactured to the right spec and can take the weight of the glazing. The team at One Stop Joinery can make recommendations on your bespoke casement windows.
With their versatility and fascinating history casement windows are an ideal option for many different buildings.
For more information on ordering casement windows for projects in Sussex and the South East through please click here