What are Porch canopies?
Porch canopies (often referred to as door canopies) are standalone fixtures generally fitted above the front door of a property. They help personalise a home, transforming the front of house into something more unique and inviting. The canopy provides an overhang, not only bringing aesthetic value but also offering further benefits for both home and homeowner. They are a great option for those looking to revamp their property quickly as they do not require planning permission.
Are porch canopies a good option for my home?
Identifying what your objectives are is the first step in deciding whether or not a canopy is right for you, or do you need a full porch. It is important to have design preferences and budgets in mind when choosing what is right for your property. Think about the age of your home and what will be in keeping with its' style.
Benefits of porch canopies
Porch canopies provide a whole host of benefits. From adding value to your property, to the protection of the front door and property itself. They can be a simple solution to a number of issues.
Shelter
Each variation of a door canopy acts as a mini drainage system. As rain hits the canopy, the door area beneath will be sheltered and the water runs off the edges instead of covering the door. This will reduce the risk of the rain getting into the house. A porch also shelters you. When the rain is pouring (as it often is in the UK!) it can be frustrating having to fumble around in your bag trying to find your key when you want to get inside quickly. This sentiment will also be shared by guests of the homeowner who would similarly prefer to be protected against the elements whilst waiting to be let inside.
Protection of the house
As mentioned, porch canopies can protect you against rain however this benefit also extends to the property. Your front door will not have to deal with being battered by rain and sleet and will also have some protection from wind. Fantastic weather can also bring issues for the front of house if not protected properly. Extended periods of direct sunlight can discolour and generally 'weather' as door, meaning it needs to be painted or re-varnished or even replaced over time. Simply adding a door canopy can help reduce this impact.
Not all canopies are created equal. If your front door currently has a small overhang above, this could result in your front door being weathered disproportionately, leaving your entrance looking peculiar. Fortunately, One Stop Joinery creates each porch canopy individually for each house. Therefore we can ensure that your front door is properly protected.
Security
An added benefit of porch canopies is the option to have a light installed on the underside or even a discreet camera. Allowing the homeowner to clearly see any visitors to the property, this helps with safety and home security in general.
House value
First impressions are very important. The front door and entrance area of your property can be the crown jewel of the house. It is the first thing visitors and passers-by notice. A porch canopy tailored to fit perfectly with the style of your home can completely update its look and set your property apart from others. They can add a visual point of interest or a focus. It can hugely improve the look of a bland or characterless house. However don't scrimp on a porch as a badly designed and fitted porch can just as easily detract from a house's value.
What porch canopies would work best for my home?
All homes are different and some may not be suitable for a canopy. With our experience we can guide you on the best approach. We can advise you on different porch options or look at a different door design to help you get the best from your property.
Here at One Stop Joinery all of our creations are entirely bespoke therefore we have the freedom to make porch canopies in all shapes and sizes, including something of a hybrid between a porch and a porch canopy if you so wish. We understand every house is individual and unique. It can be a daunting process working out what fixture is best for you and your property, but we are always happy to discuss options and can help you through the process of deciding what may work best for your house.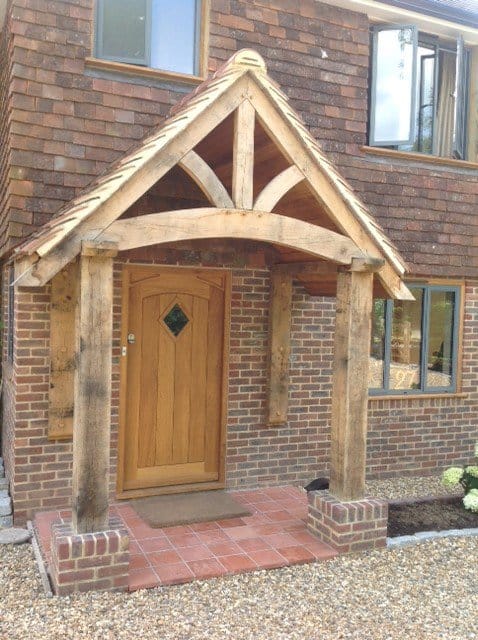 Porch canopies – designs options
There are a variety of different types of canopy designs to choose from.
Pitched canopy
A pitched canopy is characterised by an apex at the top of the structure that ensures any rainfall runs off the fixture to the sides. This is an extremely popular style of door canopy.
Flat roof canopy
As the name suggests, the flat roof door canopy is quite simply a horizontal panel that protrudes from the wall above the top of the door. These work well for smaller houses where a large canopy would overwhelm the front of the house.
Sloping canopy
The sloping canopy is simply angled away from your door in order to ensure rain runs off the front, keeping anyone underneath dry. These are also a good option for smaller house fronts.
Wood porch canopy options
One Stop Joinery only use wood from sustainable sources. We would recommend oak for any door canopy due to its durable qualities. However we are always available to discuss different options for customers.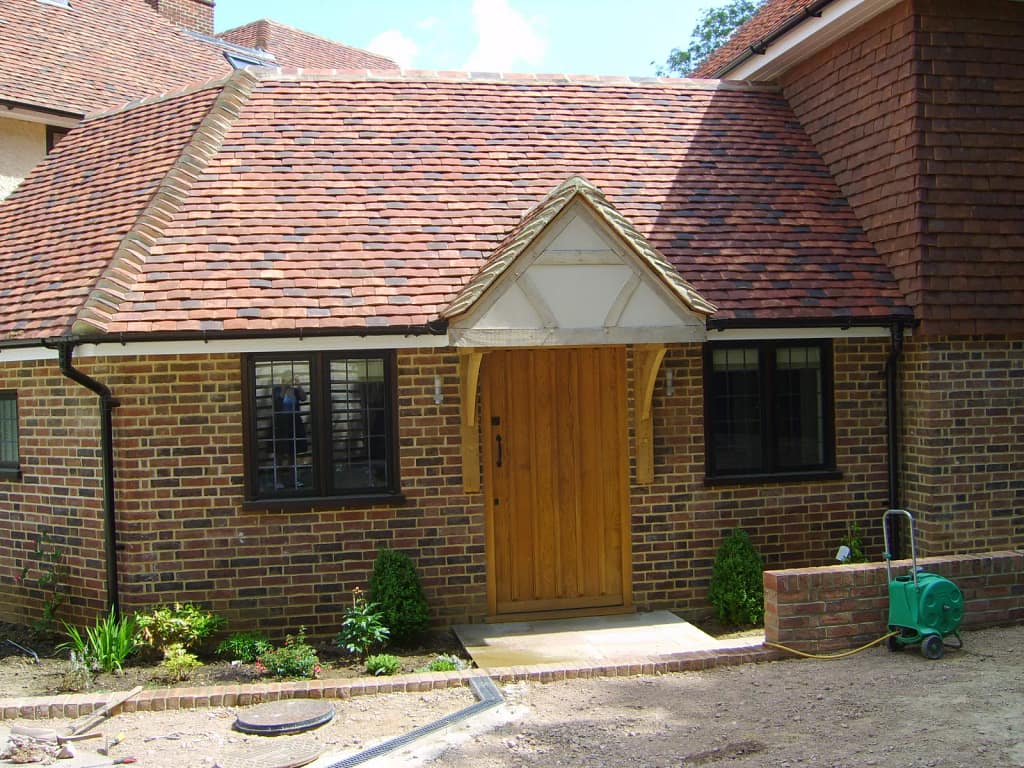 Why choose One Stop Joinery?
One Stop Joinery has been supplying traditional English bespoke joinery, including door canopies to clients throughout London and the South East since 2004. We have countless examples of our work in our gallery, as well as testimonials from previous clients. We encourage customers to come down to our workshop based in West Sussex to see how we create all of our pieces.
Already got a creation in mind for your porch canopy? Contact us at One Stop Joinery to receive a quote info@onestopjoinery.com